4 Major Brands to Launch 8K Ultra High Definition TV's by 2020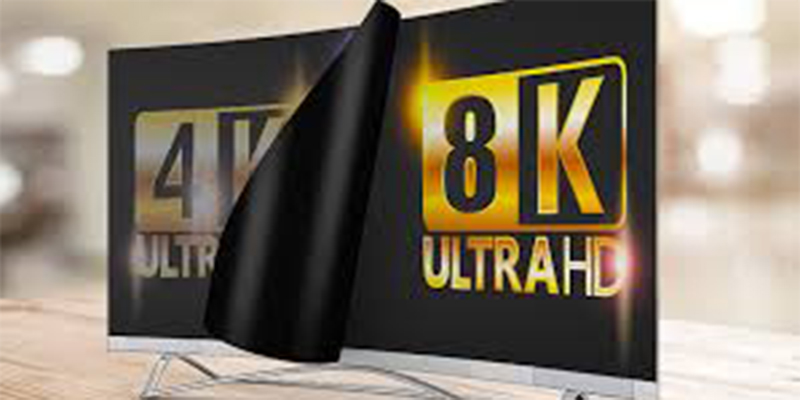 Angela Jackson | 3 min read
There's a lot of buzz surrounding this advance in-home viewing technology.
With Samsung, Sony, Sharp & LG all competing for their market share of the sale of 8K Ultra High Definition TVs.
PC Reviews reports that a limited release of 400K screens will ship this year, most of which will be to China.  900,000 of these UHD TV's are expected to ship in 2020 but won't be available in North America until 2021.  And, there is very little content created to take advantage of all this new technology has to offer.
Another thing to consider is that the best picture quality is captured at screen sizes of 85″ or larger.  And, the screens will get larger because of the market demand for them.
However, should you want to be the first to have this state-of-the-art technology, I'm sure you'd want to know how these brands stack up against each other.  Here are the highlights of what makes each brands 8K viewing capability different so you can prepare for the best viewing experience for your new smart home.
---
Samsung
Samsung is the hitting the ground running as the first to offer their version of the sleekly designed television with a price tag of $14,999 for the 85" Class Q900 QLED Smart 8K UHD TV.  Boasting its version as the "Real 8K Resolution".  Let's take a look at what they offer.
Quantum Processor 8K with AI Upscaling allows you to convert and remaster the content you have today into 8K-level picture quality.
Intelligent Sound controls the sound and adjusts brightness based on the environment.
Brightness level that's 10x's brighter than their standard Ultra High Definition TV's. Offering you far greater dynamic viewing experience. And up close viewing isn't compromised with fewer visible pixels giving it a super big screen feel.
Ambient modes enable your television to blend into the wall pattern is behind it. Turning this television into a piece of art by using overlays or uploading your personal photos.
Samsung is definitely paving the way for showcasing what their 8K TV has to offer.  Putting them in the drivers' seat for selling their product.
Sharp
Sharp, the first to enter into the 8K market, launched its second version of the 8K television this year.  The Aquos AX1-series 8K UHD TV will hit markets in Asia later this year according to Slash Gear.  They'll offer  60", 70" and 80" versions of this new technology.
The Sharp 8K has the ability to upscale content from both 2K and 4K to 8K resolution.  Their model is priced at $13,800 which is a bargain compared to the Samsung version.
Sharps 70″ HDR compatible screen has less brightness than the 10K nit Sony boasts of.  So there is some speculation regarding what this means for overall dynamic viewing capability.
LG
LG debuted its 88" 8K OLED TV at trade shows this year, which is the most massive OLED tv of its size. According to Digital Trends, LG's version will become available in 2019.  The price of their version will not be unveiled until spring of next year.  Unlike its competitors, LG hasn't created any real advertisement regarding its version of this mega television.  But, rumor has they'll have more to tell and more to sell by early next year.  With LG's unmatched picture quality, we'll not be disappointed with what they have to offer.
Sony
Caleb Denison of Digital Trends reports that The Sony X1 Ultimate 8K Led TV is the first to reach an extreme level of brightness with its 10K nit-capable 85" 8K HDR television.  Like LG, Sony hasn't revealed the price of this more than noteworthy television but plans to do so the beginning of next year.  Look forward to Sony showing itself as a major contender in the race with the competition.
Well, that's it.  We'll be able to see for ourselves over the next year or so how these mega viewing screens look and feel.  From those of us that take the leap into the upscale technology, home viewing will never be the same.